Tripawds is a user-supported community. Thank you for your support!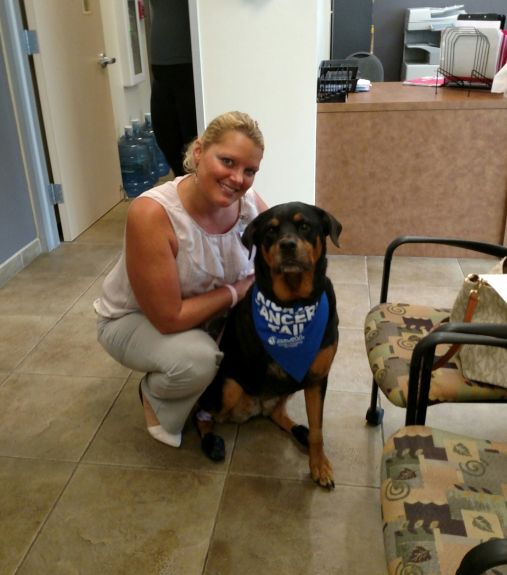 *Honeybear and Dr. Wiley*
We just got home from Honeybear's 3rd chemo treatment! Her exam and blood work were all great!  Honeybear's Oncologist (Dr. Wiley) even took a picture with her and her new bandana they gave her that says "Kick Cancer's Tail!" 🙂  Too bad they didn't have one in pink……Dr. Wiley is so intelligent and compassionate, we love her!  She is so patient with my lists of questions every time and has a way of reassuring me Honeybear is doing well and is on the right track!  If you have to go through something like cancer its such a blessing to have a great team that helps you along the way.  We even stopped by our favorite pizza place on the way home for lunch.  If you are ever in San Antonio I highly recommend The Dough Pizzeria!  They even give you %10 off your bill if you take your dog!  🙂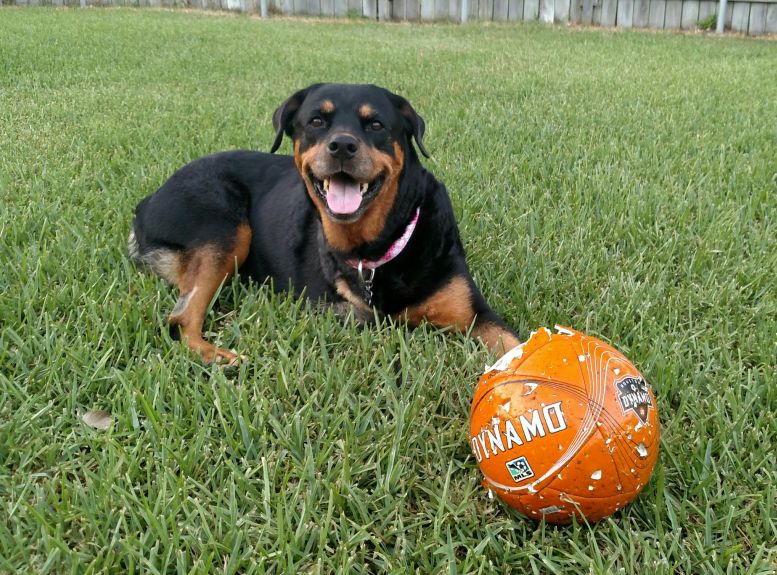 Honeybear is doing well at home also.  She is back to herself wiggling her booty and playing with some toys.  She has stare downs with the lizards in the backyard almost every night (I'm working on a picture!).  Every time she hears the car keys she is ready to go!  She does however tire quicker than normal but I can't blame her hopping around in this Texas heat!! It is brutal! I can't wait for it to be over!!  I have also been spending a lot of time researching nutrition and supplements for her.  We kept her on her science dog food j/d for her joints but I am adding homemade lean chicken, salmon, beef, sardines, cottage cheese, turmeric, chia seeds, kale, spinach, pumpkin, eggs, and an organic immune supplement made from mushrooms.  I am trying to keep the ratio of protein higher than carbs and staying completely away from starchy and surgery foods.  The only treats I buy her are freeze dried salmon, chicken or beef liver.  I am also looking at possibly adding a cbd oil, but just started researching this.  There is so much to learn but I feel confident that with conventional medicine and nutritional support she will have the best results.  So I'm pretty sure Honeybear eats better than we do now! 🙂 I thank God for the strength and healing he has given Honeybear and pray he continues to bless our sweet girl with his amazing power and cure her from this awful disease.  It is possible with God by our side!