On Friday we took Honeybear for her first checkup post chemo.  We did exam, bloodworm and chest X-rays.  Going into the day I was extremely anxious.  Honeybear has been acting great, looking great, still loves her food and treats, still gets excited for car trips and well she has just been herself!  She has always been a "cougher" so when I hear her little hack I try to not let it get to me but I think we have heard it a little more lately along with a runny nose and eye buggers.  So is it the "cough" or allergies???  She has a history of allergies and honestly I think everyone in South Texas has allergies.  Our humid climate is a perfect breeding ground for mold and our warm temperatures mean something is always blooming.
Anyways………..Friday morning my mind was going back and forth with what the results would be.  I kept thinking even though she has done so great so far we are still dealing with unpredictable cancer.  When they came to take her back for her X-rays I think it hit me.  I grabbed the cross around my neck and held it tight asking God over and over to please heal Honeybear and let her results be good.  My legs were shaking uncontrollably and I felt my breakfast rising in my throat.  After what seems like hours here comes the nurse to take us back to a room.  As she is telling us the doctor would be in shortly I am looking at her face for any signs of happiness or sympathy.  I'm thinking please give me a little wink or something!!! She didn't.
When Dr. Wiley finally came in she said exam and blood work were great and her chest X-ray……………was pretty much clear except for a tiny spot that she couldn't tell us was metastasis or an inflammatory granuloma.  At this point I didn't know what a granuloma was but I will take it!!  As we started talking and I told her about Honeybear's possible allergy symptoms Dr. Wiley said there is a chance allergies can cause some inflammation in her lungs and even Honeybear might have a mild upper respiratory infection.  She said even if it was metastasis it would be way too small to cause any coughing or other symptoms for that matter.  That definitely cleared my mind.  Honeybear's cough's have been just that….cough's.
We will take her back in 6 weeks for another chest X-ray to see if that spot went away, stayed the same or God forbid grow.  We are pretty confident at this point allergies are to blame.  As soon as we got home and I gave Honeybear some Benadryl (which I hadn't tried yet) and we didn't hear a cough or congestion in her throat.  We also decided to do metramonic therapy at home.  It is basically low dose maintenance chemo in pill form.  We will honestly do anything for her! 🙂  My husband and I feel good about her results.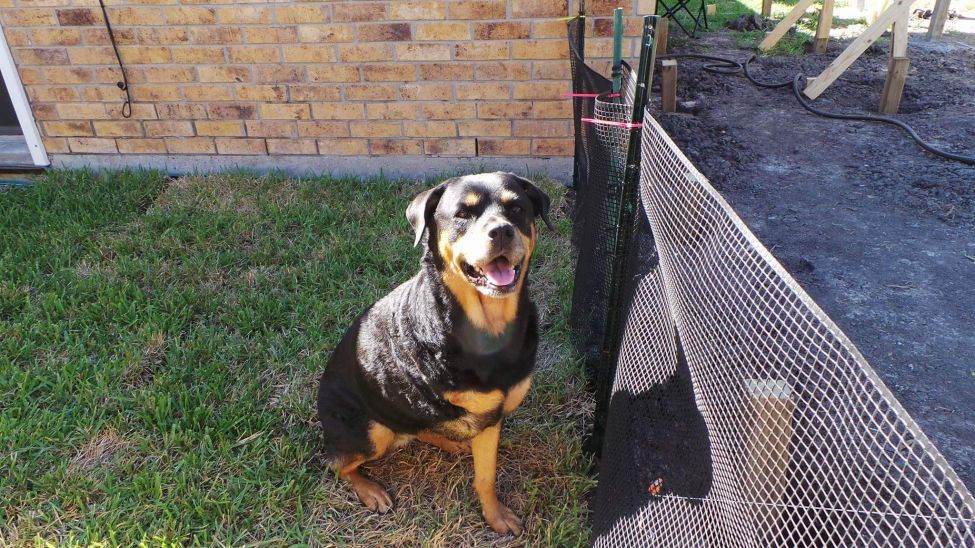 Honeybear was enjoying the weather today looking for lizards which has become one of her favorite activities!  When she gets close enough to grab them she literally just stares at them!  She just wants to be friends. 🙂  Notice our backyard is a total construction zone!  The pool deck is coming along slowly but surely.  Honeybear has already been enjoying the pool but it will be so much easier and cleaner once the deck is complete!  We don't want to sacrifice our time with Honeybear to work on it so we take advantage of the times she has had a long day and needs to rest.
She also has a new toy that she loves! I'm pretty sure it's supposed to be a moose's head that has the loudest squeaker ever!  Once she heard it she has been glued to it!  She will even take it out when she goes potty.  It reminds me of the time she had a false pregnancy years ago before we spayed her.  At one point she gathered about 8 babies (toys) that she mothered for about a month!  She even produced a little milk.  This sounds impossible right?!  Thats what I thought but google it, its real! She went through one heat cycle and I guess it happens to some dogs.  She has always been motherly with her toys ever since.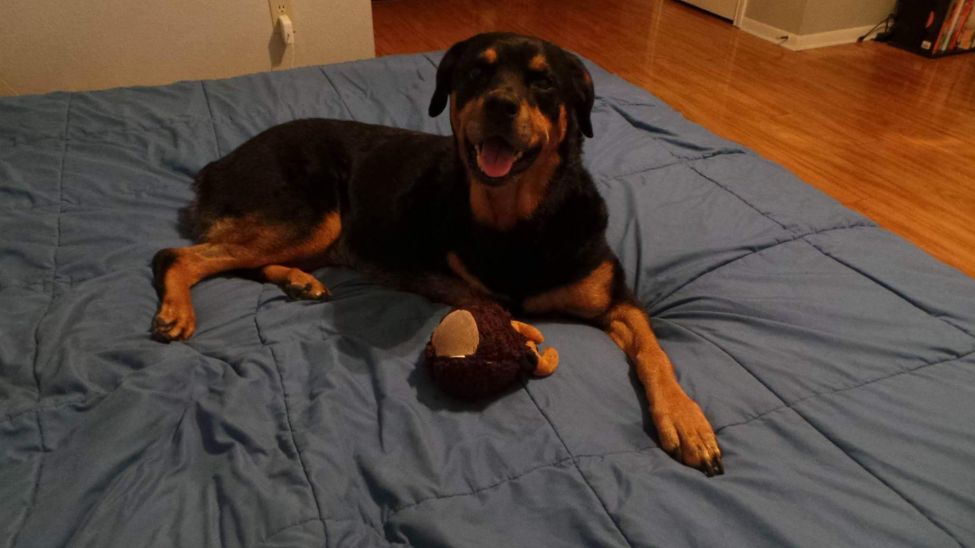 The weather is starting to get beautiful here in South Texas!!  It is my favorite time of year.  Temperatures are in the low 80's and finally we can do more outside without roasting in the scorching sun!  We can't wait to do even more with Honeybear.  The picture's below are her posing on Ocean Drive one beautiful morning and the other is her enjoying the evening breeze from the window as we watched the Cowboys game (we are big Cowboy fans, even Honeybear!)!
I am excited and hopeful for the future.  After Honeybear's diagnosis we prayed and felt like we needed to proceed with treatment for her.  I am so thankful we listened to what God wanted us to do and we continue to pray for his guidance and healing hands.  I am extremely grateful for more time with Honeybear but when I pray I pray for her to be healed.  I think she deserves to enjoy the last few years of her life and leave us a really old dog one day.  Even with all the statistics I believe this is possible because with God all things are possible!!