It's been 6 months today that we lost our sweet HoneyBear.  We've spent many days, weeks, and (I'll be honest) months crying and feeling the emptiness that comes from losing your best friend.  To say its been rough is putting it mildly.  It is so hard revisiting all the places we took her and made cherished memories at.  Without her by our side there is a constant feeling of something missing.  I wish she was still here so badly.  I wish I could hug her again.  I wish she could slobber me with her giant kisses. I wish she never left.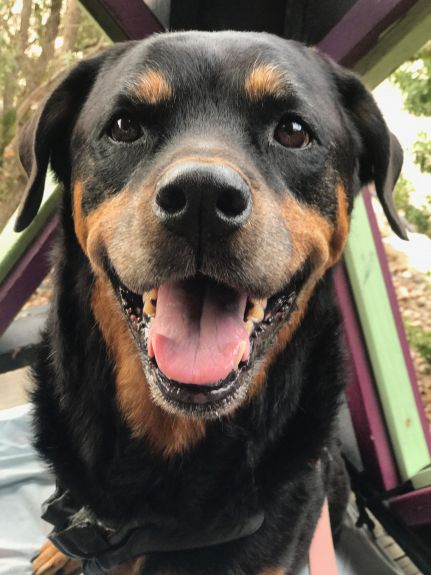 One day about a month ago I was thinking about HoneyBear and missing her sweet kisses, beaming smiles and joy for life.  As tears were rolling down my cheek I had what I guess you call an epiphany.  HoneyBear would not want to see us depressed and running through the motions of life.  She would want us to embrace it just like she did!  Her joy and happiness was infectious and inspiring.  She would hop into a room and light it up with her sparkling smile.  I feel like it is hard to be happy without her but then I remember she taught us how to truly live life and enjoy every second of every day.  She left us with that amazing gift.  We need to honor her by living life like she did.  After I realized all of this life started getting a little easier.  Don't get me wrong we still have our waterfall moments but now they usually end with a smile.  The wound is healing but the scar will remain for a lifetime.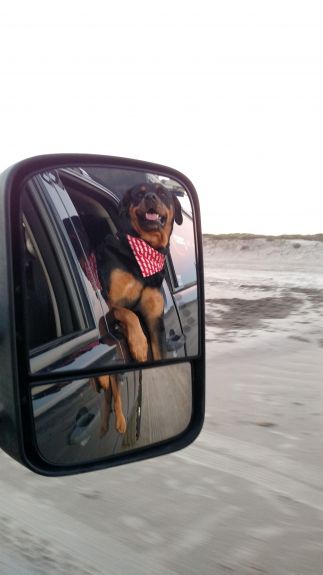 *Perfect example of HoneyBear loving life! Pre-Tripawd days!*
We felt in our hearts about a month ago that we should look into getting another dog.  We browsed local shelters waiting for the right one to catch our eye.  My husband ended up stumbling across a picture of a puppy on a FB page.  To make a long story short……meet TeddyBear Thor! (The name is a mix of HoneyBear and Chogan Thor)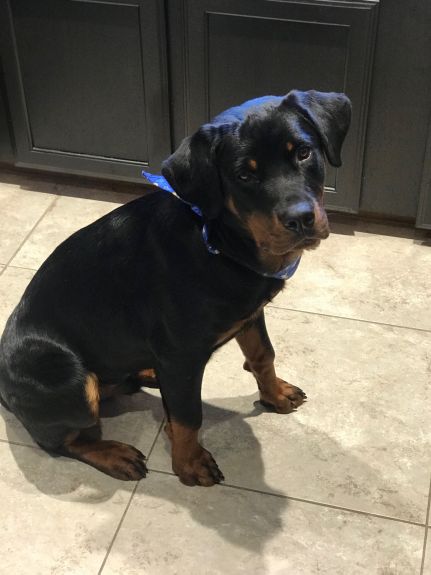 We weren't even planning on another Rottie but I guess it was meant to be.  Teddy was born a week before HoneyBear passed.  He has a lot to learn but is very intelligent and catching on quick.  He is very sweet, gentle and as people have been saying very "chill." I think his personality will be a perfect combination of Chogan and HoneyBear.
Losing HoneyBear isn't something we will ever get over.  Missing her is something we are learning to live with.  The lessons she taught us will inspire us for a lifetime.  My husband told me the other night that our pets have molded us into the people we are today.  I believe he is right.  As with every situation encountered in life we learn and grow from it.  Our lives just happen to revolve around our pets so the experiences we have had with each of them have made us stronger, happier, smarter, more hopeful, more adventurous, our faith has grown and our passion for life has never been so spirited.  They have all left their mark on our hearts.  HoneyBear left a special mark on us as she was such a special girl.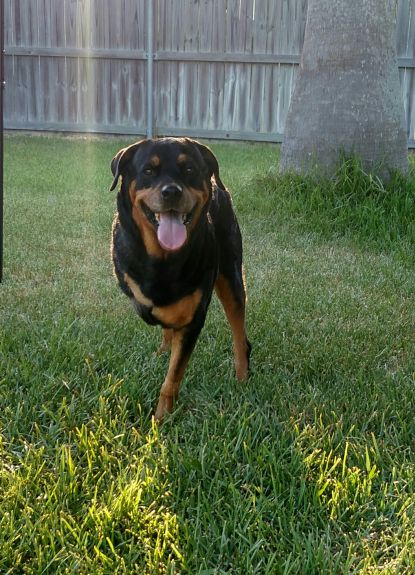 It has taken me this long to write another entry into this blog because #1 I just couldn't find the words and #2 I didn't want to discourage people.  If you are reading this right now and your dog is in the middle of the Osteo battle, please don't be sad!  Be hopeful!  The best lesson HoneyBear taught us was to never give up hope.  You never know what tomorrow will bring.  There are so many trials and cutting edge treatments coming out for this awful disease.  There will be a cure one day.  I have some great ideas for Osteo research fundraising that I plan on executing very shortly in HoneyBear's honor.  I will post updates here for "HoneyBear's Hope For A Cure."  I am so grateful God chose us to watch over her and share such priceless moments with.  We will continue to live our lives with HoneyBear's sparkle and hope, knowing she is up in Heaven smiling down on us.