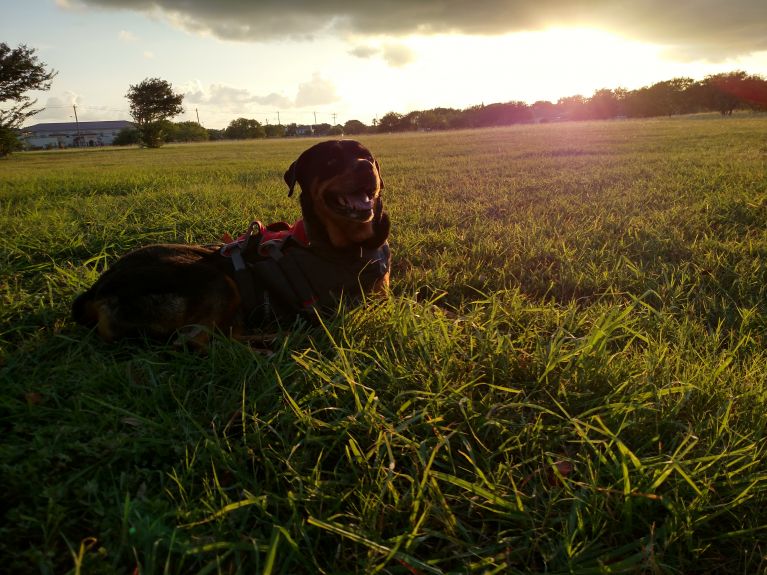 It has been awhile since my last post so this might be a little long.  I definitely feel like I have been on a roller coaster ride and I do not like roller coasters!  They are scary, unpredictable and just when you think its over it does one more crazy flip!  This is exactly what has been going on with Honeybear.  Recovery was and is a lot tougher than I had thought it would be.  I knew that she would have some pain and it would take a couple weeks before she acted any better but I wasn't prepared for the whimpers with the phantom pain, the edema in her belly, the side effects of the pain meds, the soreness and stiffness their bodies feel adjusting to their new walk, the muscle wasting from just laying around, and the gut wrenching feeling I get when I see her struggle in any way.  Between her pain med schedule and listening to her switch positions or whimper in the middle of the night sleep had been non existent until the last couple nights.  I am writing this blog to #1 document Honeybear's journey and #2 to help someone who is going through this also or thinking about going through this, so I think its important I not only talk about the positives but the negatives as well.
Honeybear is 3 weeks post op tomorrow!  She is completely off tramadol and is only taking one Gabepentin twice per day along with her previcox once a day.  I tried the last couple days to get the Gabepentin down to once a day but as soon as I skip that morning dose she can't get comfortable and will start panting.  On day 17 I came home for lunch and she was actually standing waiting for me and wiggling her little booty! I was so happy!!  🙂 Prior to this she would be on her bed when I would come home and lift her head.  I was also bringing her food to her at this time.  She now gets up to greet us and to eat her food!  She loves being outside, anytime she hears the door open she is up!  This is great to see but very frustrating because we live in Texas and it is already a scorching summer!  We can only be outside 5-10 minutes unless it's after the sun has gone down.  We are close to the beach which she loves but right now they have been reporting a flesh eating bacteria in our water!!  I think we've been through enough lately so scratch that for now! 🙁  I have seen where people ask if tripawds get depressed and in my opinion I think for Honeybear she is happy doing something she loves but just cooped up inside the house definitely gets her down.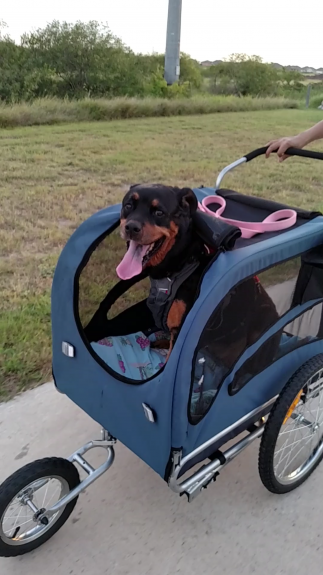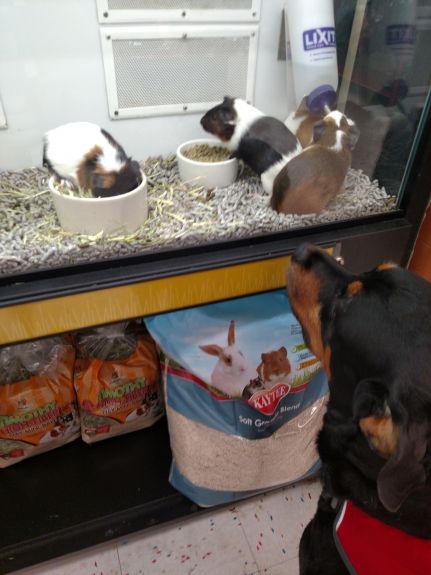 Don't get me wrong we have definitely been doing anything we can with her.  The other night we took her to a walking trail and she got a little ride in her cart!  She loved it!  Last night we took her to our neighborhood park that we used to walk to every morning, she also loved this!  Today I took her to the bank and a quick stop at Petco to see the guinea pigs.  Of course she loved this also but I discovered no more Petco unless she has her rubber pawz shoes on!  She was slipping all over the place!  Thank you Ruffwear for the harness, I was able to hold her up.  I have noticed even though she loves all these activities they wear her out quickly and make her sore and stiff.  So I think baby steps is the best way to go.  I do want to get her into some physical therapy soon.  I think this will help with her strength and stamina.
Honeybear's blood test last week was good so we have one more to do this week and back to the specialist next week for chemo #2!  As far as I know she is handling the first chemo very well.  It is hard to tell since she is still on some meds and is still recovering.  I have read so many stories where dogs have bounced back to their old selves at 2 weeks post op.  This is great and amazing for these dogs but it is not true for all dogs.  Honeybear definitely has her sweet personality back but as far as activity level she is still working on it.  She was an extremely active dog pre op and was still using her right arm (bad arm) so I think that is why it is taking her a little longer than some.
We are so blessed to be able to proceed with the treatment for Honeybear and I pray for her healing and strength everyday.  Every day is better than the last and every week I see leaps of improvement!  Patience is a necessity going through recovery and I am working on that!  I am also working on not worrying so much, I know she feels it.  I wish I had a switch "worry off!"  Since I don't I will work on that and Honeybear will work on healing and I will have an update soon!  Got to go prep Honeybear's salmon and spinach dinner now!