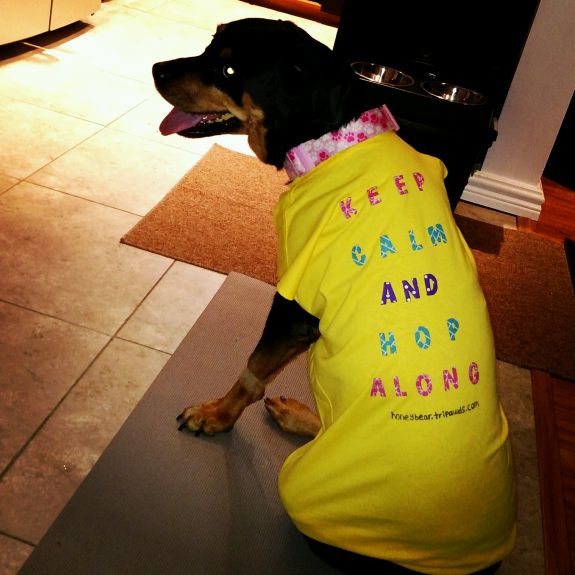 Today was a big and exhausting day for Honeybear!  We saw her surgeon for her suture removal and she is healing perfectly!  Honeybear even sat on her back legs and gave the surgeon a high five!! 🙂  We then had our oncology consultation and proceeded with her first chemo treatment.  They did an exam and blood work prior to the treatment and all was good.  The exam, blood work and treatment took only an hour!  I think the consultation was longer because of all of my questions!  This was one treatment of five that she will need.  We will take her every week for blood work and every three weeks for treatment.  I just have to say although this specialty hospital is a drive for us they are totally worth it!  I couldn't be more pleased with the professionalism, compassion and knowledge that the staff has at South Texas Veterinary Specialists.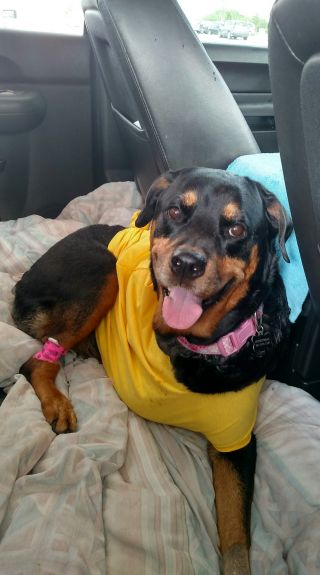 Honeybear in the car after chemo,  her happy little face is starting to come back!!
As you can see we decided to have a little fun with all this to keep our spirits up so we made Honeybear a shirt for her trip today. 🙂  She has to wear shirts right now so she doesn't lick her incision.  Everyone loved it and I have to say I think yellow is her color. 🙂  She is still on low dose pain killers for her muscle spasms (phantom pains) but I think they might be getting a little better.  The surgeon said they might last for 4-6 weeks.  I have been researching cancer diets for dogs and decided to keep her on her specialty food for her joints but also supplement with some lean meats, vegetables, turmeric and hemp oil, etc.  The oncologist said all this would be fine to do with the chemo and since she will be doing so much blood work they will notice if a problem does arise with her diet.
As soon as she is off her pain meds and completely healed I plan on visiting a local canine rehab clinic for some water therapy.  Honeybear loves to swim and it is supposed to be the best therapy for amputees.  I am still trying to convince my husband that we just need to get a pool for the backyard!! 😉  So far no luck but I will keep you posted!  It sure would be nice for our hot Texas summer………Anyways back to work tomorrow so I will update as soon as I can. 🙂