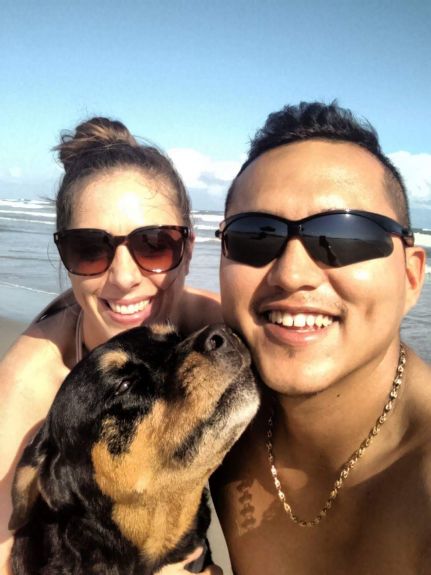 December 6th will be HoneyBear's 6 month anniversary from her "life changing surgery," as we like to call it!  In the beginning when we made the decision to proceed with treatment they told us the inevitable reality that unfortunately comes with an osteosarcoma diagnosis and that is metastasis to the lungs.  We understood and came to terms with the fact that we were just buying her time.  In the last 6 months that reality became overlooked by prayers, love and time spent together.  That statistical fact had been put in the back of our minds as we watched our sweet girl love life with a big smile on her face, literally! 🙂  We clearly made the right decision and her quality of life has never been better!
Today was another checkup with lung X-rays.  Her last X-ray showed 2 very tiny unknown spots.  Today those unknown spots were a little more clear and Dr. Wiley confirmed it looks like metastasis.  Ok I know at this point you are probably saying "Oooohhh no, that's not good!"  But please let me interject, I have good news!  The growth on these 2 spots is very slow and HoneyBear is still as happy as a clam (I still don't understand this saying)!  Also they are so tiny they aren't causing her any discomfort or pain!  We are already doing metronomic therapy and there is another medicine (palladia) Dr Wiley thinks will help these nasty little things from growing and spreading.  We are doing a little research on it and will hopefully start next week.  I have also been doing my own research on CBD oil and will be adding that also.  I mean who is with me at this point???!!!  Team HoneyBear never quits!!!
I know y'all are probably thinking this girl has lost it and doesn't understand the inevitable will come!  To that I say I fully understand but being depressed and negative won't help anyone especially HoneyBear.  I also strongly feel in my heart that miracles happen everyday.  As we walked out of Dr. Wiley's office today I told her "She will be your success story!"  To that she gave a huge smile and said "I hope so, bring it on!"  Dr.  Wiley we are bringing it!  We said from the beginning and still say it today we will do whatever we can for HoneyBear.  That includes medicine, supplements, diet, bedding, love, prayers and Dr Wiley's expertise.  The weather is getting cooler in South Texas, Thanksgiving is right around the corner, Dallas Cowboys are winning and our back deck project is almost complete!  Life is what you make it and right now life is good!