Tripawds is a user-supported community. Thank you for your support!
The last two days have had ups and downs but Honeybear is still doing great on her recovery!  Our sweet neighbors dropped by the other night to give Honeybear some tasty treats and a card.  To our surprise she got up and ran/hopped to them!  The good in this is she ran!  The bad in this is it caused her bandage to slip and she really shouldn't be moving like that quite yet.  So the next morning we took her to our vet and she got a new bandage.  She loved the car ride there even getting up several times to look out the window!  While we were changing her bandage we got to take a peak at her incision and it looked great!  Well it looked like an incision with staples but no signs of swelling, redness or infection.  🙂 She also stood up on her back legs to give the tech a kiss!!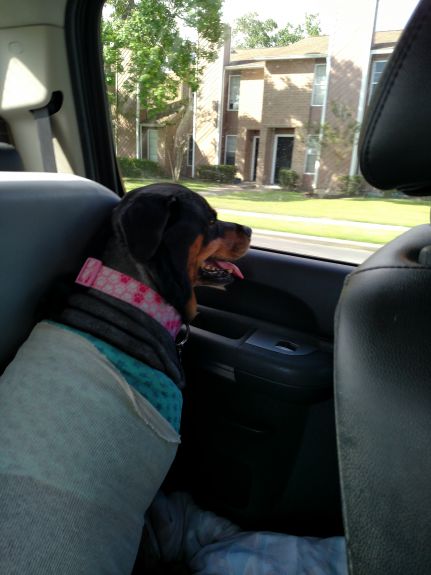 I also had to call the specialist because I was concerned about her abdomen.   She has been eating/drinking great and even had her first bowel movement since surgery this morning.  It may sound weird but I was so happy! It takes a few days to get that going after surgery in her case 3 days so I felt relieved for her.  Anyways back to her abdomen, it looked heavy and distended.  I tend to worry and freak out about every little thing so I immediately thought internal bleeding or stomach bloat but the specialist reassured me it was edema and is common after surgery.  It is an accumulation of tissue fluid and with gravity sat in her stomach.  She told me to put some heat on it so I did and this morning it already looks more normal.
I love to cook and learn about nutrition so yesterday I decided to make Honeybear some super healthy dog treats. She loved them 🙂  These had a pumpkin and apple base to help move things along restroom wise and this morning I found out they did the trick 😉  I plan on doing some blueberry ones next.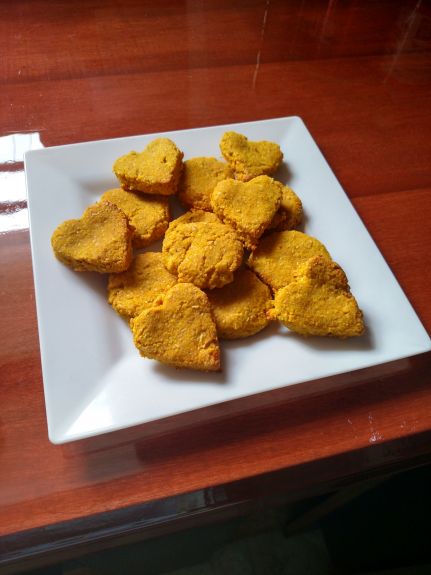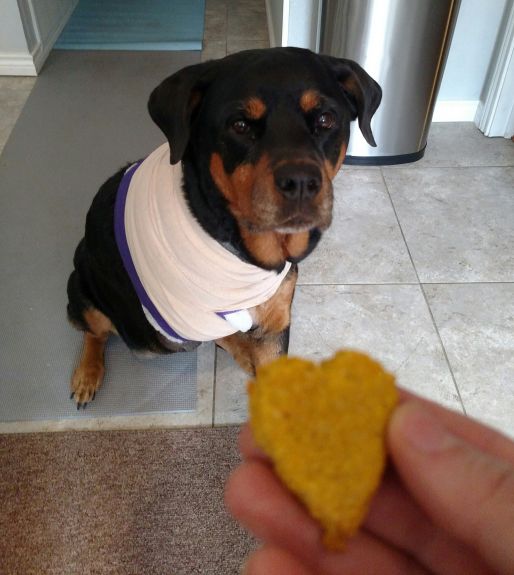 At this point I think the hardest part is her being on all the pain meds.  I already cut her tramadol back a little (they said this was ok).  She is so sleepy and when she does walk wants to take breaks.  I know side effects to these painkillers are drowsiness, weakness and dizziness which must be frustrating to her since she is already learning her new balance.  I can't wait until she is off of them and acts a little more like herself.  She should be done by next week.  We are excited to take her to her favorite places as soon as we can.  One thing about Honeybear is that she is not a homebody!  She loves to be out and about!
That's pretty much all that has been going on the last couple days.  Tomorrow my husband takes over the nurse role since I have to go to work.  I'm going to miss her!!