So a lot has happened since my last post!  Yesterday was a big day, Honeybear got to get her bandage off!  I felt so relieved for her as that bandage looked so uncomfortable!  The incision looked great!  I'm attaching a photo of it below so if you have a weak stomach don't scroll any further! I mean like I said it looks great from a medical stand point but is still a little overwhelming if you don't know what to expect.
You see, it looks great!! 😉
I definitely woke up in a great mood today and let me tell you I am NOT a morning person. I had an email waiting from the specialist and I was a little nervous to read it knowing it was probably going over the histopathology results.  She said "We got complete excision and they did not see obvious metastasis to the lymph node."  Yay!! Woohoo! 🙂 🙂  Now I know even though they didn't see obvious metastasis that doesn't mean microscopic cells haven't already spread but it is definitely a step in the right direction!  That is what the chemo is for to kill any cells we cannot see.  Anyways that is good news #1!!!
Good news #2……Honeybear's new Ruffwear harness came in today!!  I know as soon as she is healed it will be such a benefit to help her around when she needs it.  She seemed to like it but I think she thought it was a pillow 🙂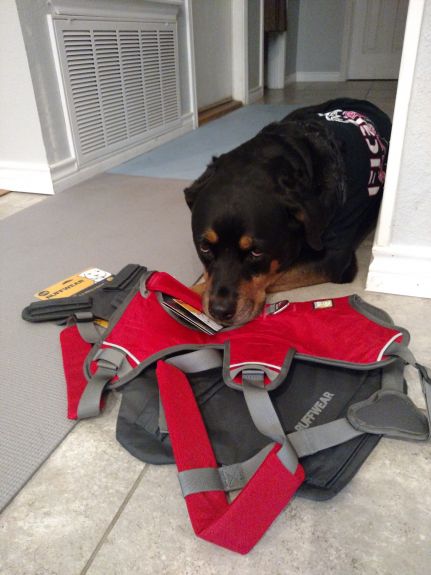 She still has that depressed look on her face from the medicine but I started to lower her dose just a little today.  She still needs it.  The last 3 days or so she will cry out of nowhere and the specialist says it is muscle spasms from the muscles healing together.  She has still been lying around a lot but I think all that will change when meds are completely gone.  I think she is also getting super spoiled with her food, tonight was organic salmon with roasted green beans and brown rice!  I am just adding a portion of this in with her regular food so she doesn't lack certain nutrients.  Other than that we are just waiting to take her for her first chemo treatment on Thursday!!  I will update then 🙂