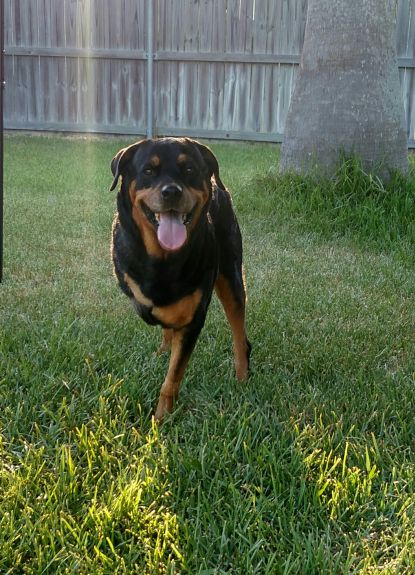 Honeybear has been doing really well!  The only little thing and I have mentioned this before is she get's tired quicker.  For example I took her on a very short walk this morning and then a trip to Petco, taking the scenic route home so she could stick her slobbery face out the window and now she is laying right beside me snoring away!  Her appetite has been great and she can run like a champ! She is definitely enjoying life!
We are still dealing with this scorching Texas heat! Honeybear is over it and so are we.  You can't go outside for 5 min without melting between the hours of 7 AM and 7PM.  So we decided to buy Honeybear a present……….A POOL!!! Not just a little kiddie pool, I'm talking about a 16 foot round 4 foot deep above ground pool!  We have a design and a plan so we spent this weekend tearing out our old deck to make space for our new backyard getaway!  It is a lot of work but Honeybear is our motivation!  I know you may be thinking, how is this a present for Honeybear?? Because she LOVES to swim!  If we go to the beach she runs straight to the water!  When we go to the Frio River we can't get her out of the water!  She truly loves it!  We also thought it would be great therapy for her physically and mentally.  It should arrive beginning of next week and hopefully will be complete in about 2 weeks.  We are all so excited!
*This is Honeybear swimming at the Frio 3 days before her diagnosis*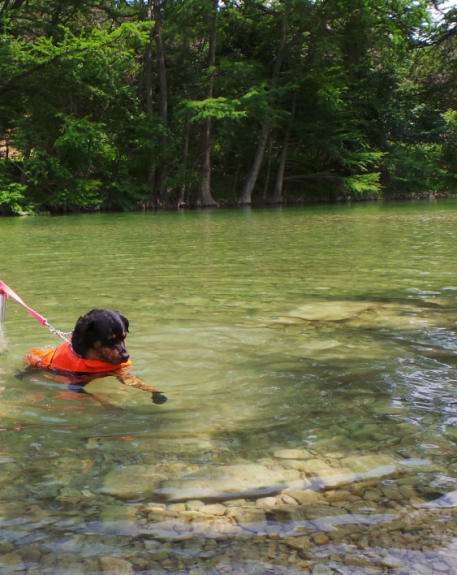 I don't want someone to read my blog one day and think "you must have to have a lot of money to treat a dog with cancer, all these people do is buy their dog treats, harnesses and toys."  That is why I am going to share some personal information with you, not for sympathy but to hopefully  encourage someone one day.  Ok here goes.  Last June our dog Chogan was diagnosed with bone cancer, a week later my husband was laid off from the oilfield (a job he had and was great at for 10 years), that July we lost Chogan (he was 11 1/2). My husband got his insurance license and started working for Aflac in November (he is considered self employed and only makes money when he sells).  This February we lost our diabetic cat Jinx due to organ failure (he was almost 15).  On May 25th at about 3pm Honeybear was diagnosed with bone cancer.  That same day May 25th at about 11:59 PM with swollen eyes and extreme exhaustion we made a decision……to FIGHT!  After that our mood completely changed, instead of feeling defeated and depressed we felt relieved and hopeful!  Everyday since then has truly been a blessing.  We appreciate life more and realize no one knows what tomorrow will bring.  This last year has been a real struggle for us but it has made us so much stronger.  Our goal is to spend as much time with Honeybear as we can making her as happy as we can and if that means getting her a pool then so be it!  🙂  She is the star of the show right now.  Don't get me wrong this has been a very expensive journey but we are making it happen.  We have been saying lately we are not taking our money to Heaven.  It takes a lot more than money to take care of a dog/human with cancer, it takes a lot of love and faith.  Even at our lowest and far from our wealthiest the decision was easy for us and I thank God everyday for showing us what we needed to do.  I also thank him for healing Honeybear this far and ask he continues to do so.