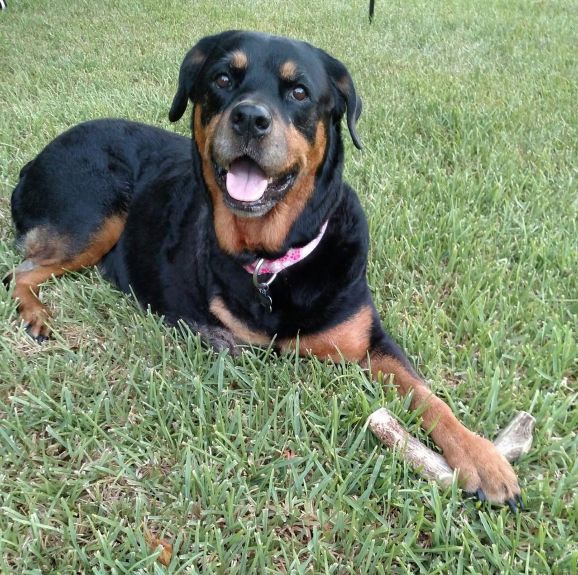 If you read my last update you know we bought Honeybear a pool so we have been so busy trying to get the backyard ready for it.  If you are a homeowner I know you will understand that one thing leads to another!  Its always going to cost more, take more time, and be completely exhausting!!  So needless to say we are exhausted and Honeybear still doesn't have her pool set up 🙁  But we are staying motivated and will get it done soon, very soon!
Honeybear has been doing great!  My dad sent her some antlers from Wyoming that she can chew on and she loves them!  As you can tell from the picture she is saying this is all mine!  As I type she is getting her 4th dose of chemo.  The second we turn on the road of the clinic she starts whimpering and jumping around in the truck!  She loves coming here and the staff loves all the kisses she gives them!  I love coming here too but I have to admit I still get nervous every time.  When they bring her out I grab the cross on my necklace and hold it tight as well as my breath and wait for them to say "she is doing great!"  Then I breath and say "Thank you God!"  I'm sure anyone going through this will understand the fear of bad news.
When we leave the clinic we are going to a pet store that carries Orijen dog food.  Even with all the supplementing we have been doing with Honeybear's diet I still can't stop thinking that the #1 ingredient in her food is corn.  It's a great food (Science Diet Prescription J/D) for her joints and that is why I haven't switched yet because obviously her joint health is more important now than ever.  But that corn…….so after a lot of research I think it's best to switch to Orijen.  I also have stopped giving her any kind of rawhide as we switched to the antlers.  I found out the antlers have minerals and marrow on the inside which have health benefits. As they chew on them they slowly get smaller and don't splinter off.  They also last forever and I am so lucky that hiking in Wyoming is my Dad's hobby and he finds them all the time!
Hopefully I can include a picture of Honeybear swimming in the pool on my next update.  I can't wait to see her big smile as she paddles around.  I'm thinking it will take her a bit to get into the swing of swimming again but she is a smart girl!  Life is so good and I know I say it every time but I'm really so thankful for another day, week, month, and God willing, year and even years with our sweet girl!  Why stop at year??!!  She has the strength and support to live her life to its full potential!
*Look at that core strength!!*