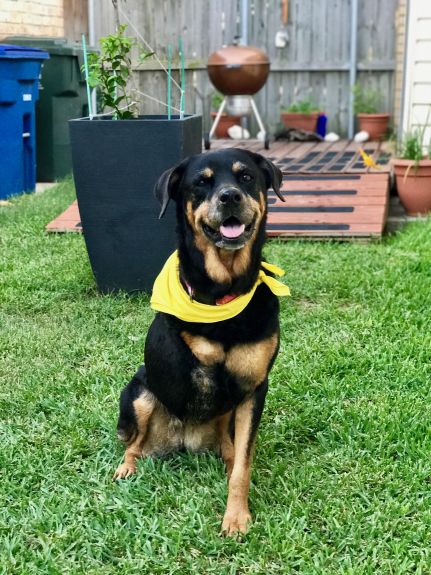 So much to talk about!  First of all I apologize for being M.I.A. for the last couple months!  HoneyBear's last check up was the same as the others…….pretty much stable, maybe one more, maybe a millimeter bigger, very slow progression.  Given HoneyBear's situation this is good news but lately I find myself thinking can we do more?  I know the facts HoneyBear is 10, has pulmonary metastases from a very aggressive cancer and has already done very well statistically.  We know how much we are doing for her and I know it sounds crazy but we want to try harder.  I have been researching everything from Stereotactic Radio Therapy to clinical trials to new and promising immunotherapy medications.  I won't stop until I have exhausted all options with HoneyBear's well being of course being top priority.  With the hope something will come our way to help her soon we started a fundraising effort.  We made bracelets and are selling them to raise funds for treatment and also to raise awareness.  They are yellow for Osteosarcoma and they say "HoneyBear's Hope For A Cure-honeybear.tripawds.com."  HoneyBear's hope that one day there will be a cure for people and animals alike.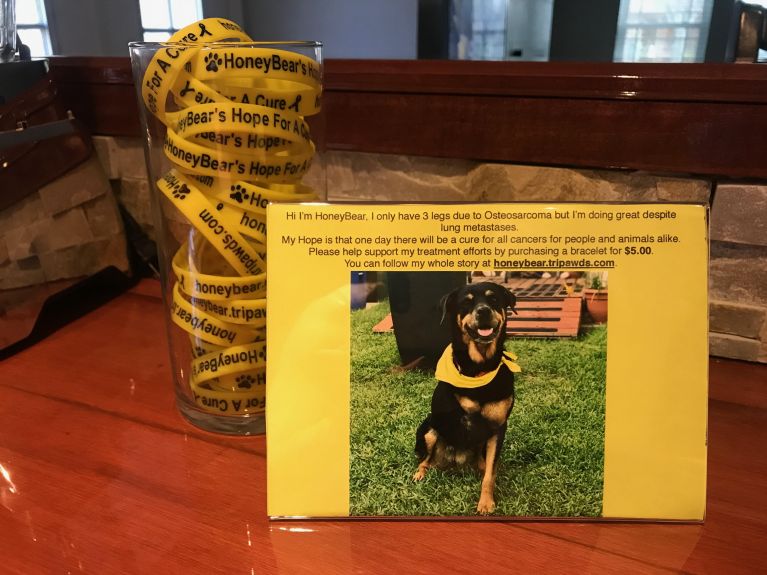 We also switched her diet.  I have struggled trying to find the right diet for her.  I want no grains and carbs for the cancer keeping in mind higher amounts of protein will make her kidney values rise.  This is nearly impossible but we seem to have found our answer!  Answers raw dog food. I know what you are thinking #1 Ewwwww and #2 that has to be unsafe!  Well that is exactly what I thought but the food is grown and processed at a small farm that is %100 organic and free range.  HoneyBear is on their detailed formula that is fermented for safety and as long as you're open minded its not that gross.  I will keep you updated on this but so far so good.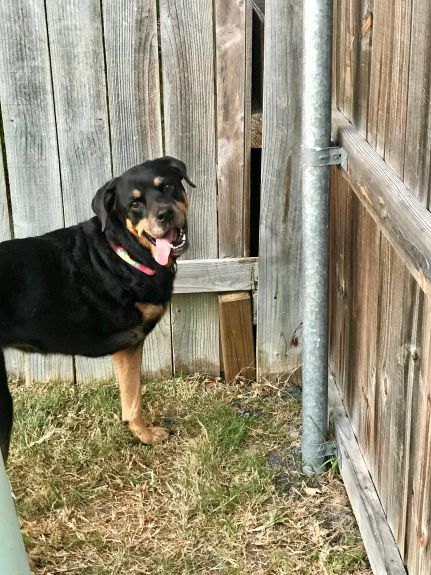 HoneyBear's new excitement is the kittens the neighbors have in the yard behind us.  She runs out there every morning/night straight to the back fence and waits for them to come to the small opening to basically have a stare down. 🙂  She will stare at them for hours if we let her! I am actually glad this is her fun right now because honestly it is too hot in south Texas to do anything else!  When we do take her out and about she lays on her cool pad, wears her cool vest and……don't laugh…….we also have a fan for her! 🙂 I am serious people its scorching down here!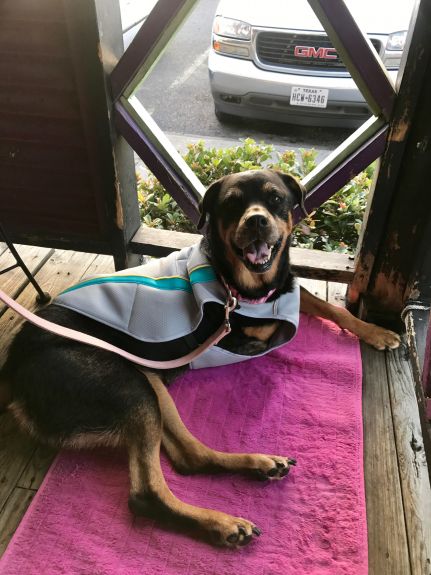 Despite the lung mets HoneyBear remains happy and that is the ultimate goal.  We wouldn't do anything to jeopardize this.  I am praying for guidance on the next step for HoneyBear and also praying there is a next step.  Our hearts are in this %100 and we have to follow what we feel is right.  I know we are on this journey for a reason and if HoneyBear can be a part of finding a better treatment it would not only benefit her but other dogs and people living with this awful disease.  Standard care right now is simply not good enough.  We will never lose hope and we will do all we can to find another way.  One day there will be a cure and God willing HoneyBear will see that day.