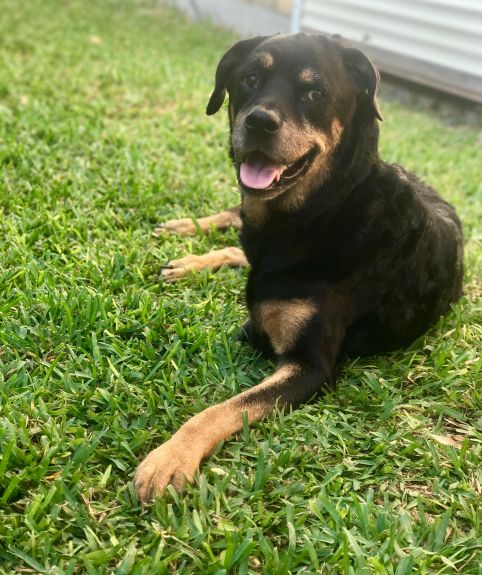 It hurts me so badly to say HoneyBear lost her fight Monday afternoon and took her last journey to Heaven. I feel more than heartbroken, I feel broken. She was such a joy to have in our lives. She amazed us everyday with her strength and abilities. She made us laugh with her huge smile and silliness. Most of all she was lovable and sweet, so very sweet.  She loved life so much and embraced every situation she was in.  She fought cancer with a smile on her face and a twinkle in her eye.  We love her so incredibly much and we will miss her more than words can say.
I know this comes as a shock since she has been doing so well. She really has felt great and been very happy up until the last couple weeks. From a medical standpoint her chest x-rays the last couple visits were progressing pretty quickly but luckily they weren't affecting her ability to breathe. A couple weeks ago she got a stomach ache. The Dr called in some meds and within a couple days it was under control and she was eating again and feeling great. She did start coughing more. Then about a week and a half ago she lost complete function to her hind legs. She still acted happy, ate and drank but couldn't walk or stand on her own. The Dr said the good news is she wasn't in any pain and still had her spirit. She said it could either be a spinal tumor growing and pinching a nerve or a stroke to her legs. Since she seemed happy Dr. Wiley told us to go home and enjoy some down time but that "it was getting close."
We came home and within a day had a routine down for her new handicap.  We carried her in and out for potty breaks.   She seemed fine for a couple days but then she started being very picky about food and was coughing more. I tried everything food wise and then she finally refused and literally pushed the bowl away with her nose. Her coughing got to the point a couple nights ago that she couldn't sleep and yesterday she was struggling to breathe. We knew it was time. Somewhere along this journey I forgot this day would come. I always stayed so positive and hopeful that I think I lost reality.
We knew it was a long drive but we wanted her to be with Dr. Wiley and her staff in San Antonio. They love her so much. The 2 1/2 hour drive up there was cloudy and rainy. I sat in the back seat with HoneyBear so she could rest her head on my lap and I could love on her for the last time. Dr Wiley and techs came to the car so she didn't have to be moved. Even though she was struggling to breathe she still found a way to give me, my husband and Dr Wiley a kiss. She went very peacefully surrounded by love. About 20 seconds after she passed there was a break in the clouds and the sun beamed down on us. My husband and I then looked at each other with tears of joy as we felt God's presence.  It was as if he was extending his hand for HoneyBear to follow him, lifting her spirt with her new angel wings. Since she loved life on earth so much I can imagine how much she must love Heaven.
HoneyBear took a huge piece of our hearts with her and it is definitely going to take some time to heal and as a friend said "relearn life without her." I am very blessed to have a husband who cares just as much as I do and is being strong for the both of us. He got up for work yesterday at 4 AM then drove us to San Antonio then drove us home and today he had to be up at the same time again. I know he feels the same pain that I do so to me that is the ultimate strength. It is just us now, I know it will take time but we will heal together.
I will continue "HoneyBear's Hope For A Cure" in any way I can. I will continue to fight in her honor so others have the same fighting chance she did. When we first decided to proceed with her treatment we knew at best we would get 9 months to a year. It has been 16 months. She beat the odds and we had so much fun along the way.  In the last year HoneyBear ran on the beach, swam in the lake, floated the river, made tons of new friends, went with us almost everywhere, swam in her pool in the backyard, went to movies in the park, saw the blue angels, celebrated her 10th birthday and raised so much awareness for Osteosarcoma. I am so grateful we spent so much quality time with her and made special memories we will cherish for the rest of our lives. I would go back in a heartbeat and do it all again.  The hardest part about loving them is losing them. It is so hard but I believe we will all be together again one day.
Thank you so much HoneyBear for everything you taught us. You were such a gift and a part of you will always live in us.  We will miss everything about you; your kisses, your smile, your sweet eyes, your snuggles, your high fives, your wiggly booty when you were excited, your happy dance when we got home from work and your presence that was always by our side.  You were always ready for the next adventure.  I know you will embrace Heaven with the same passion.  We love you "so much" and we know you will always be with us. Until we meet again my love.
~Chogan and HoneyBear are together again, forever~